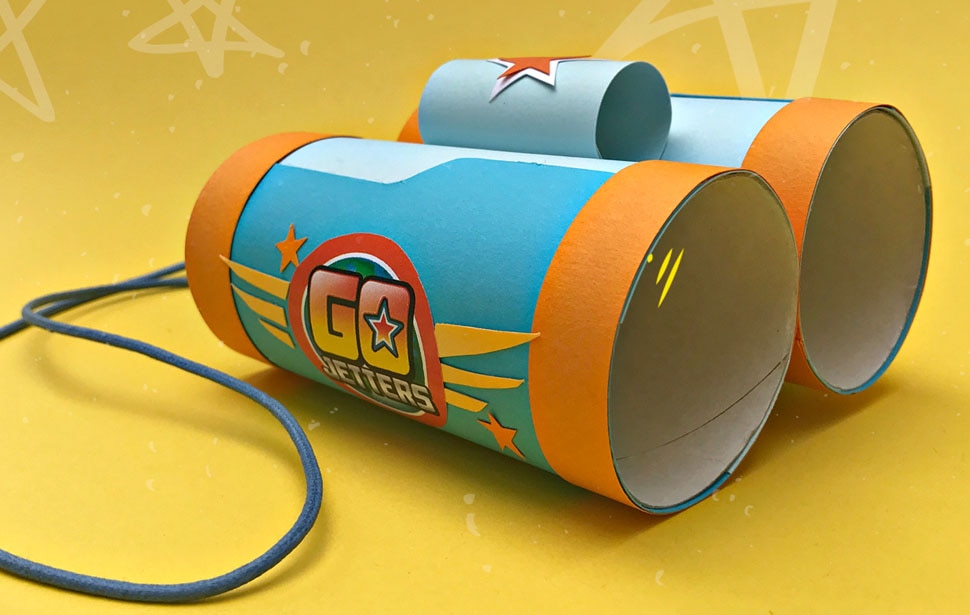 Take a peep through these fab binoculars – your little one will have hours of fun discovering the world around them. You'll see!
You will need:
Coloured card (orange, white and two shades of blue)
A black pen
Two short paper-tube rolls
A pair of scissors
Glue
Thick cord
Instructions for the binoculars:
For each roll: cut out a piece of light blue card – see the shape on the left. Cut another piece of card to the shape on the right from the darker blue. Finally, two narrow orange strips long enough to wrap around each end of the roll. Repeat these steps for the second roll.
First glue the light blue card onto one side of the roll.
Next glue on the dark blue card on the opposite side of the rolls as shown, so the rolls are now completely covered.
Finally, add the orange strips to each end of the rolls.
Glue the two decorated rolls together as shown.
Cut out a rectangle of light blue card and roll it into a small cylinder, using glue to secure it. Glue this shape on top of the two rolls, centred.
Print and cut-out the decorative shapes on the supplied printable or create your own.
Glue the decorations on to the binoculars – use the completed photos as inspiration for the position of the shapes or better still, design your own pattern.
To compete the binoculars, cut a length of cord or wool long enough for the neck strap and secure the ends inside the rolls with a little bit of tape.