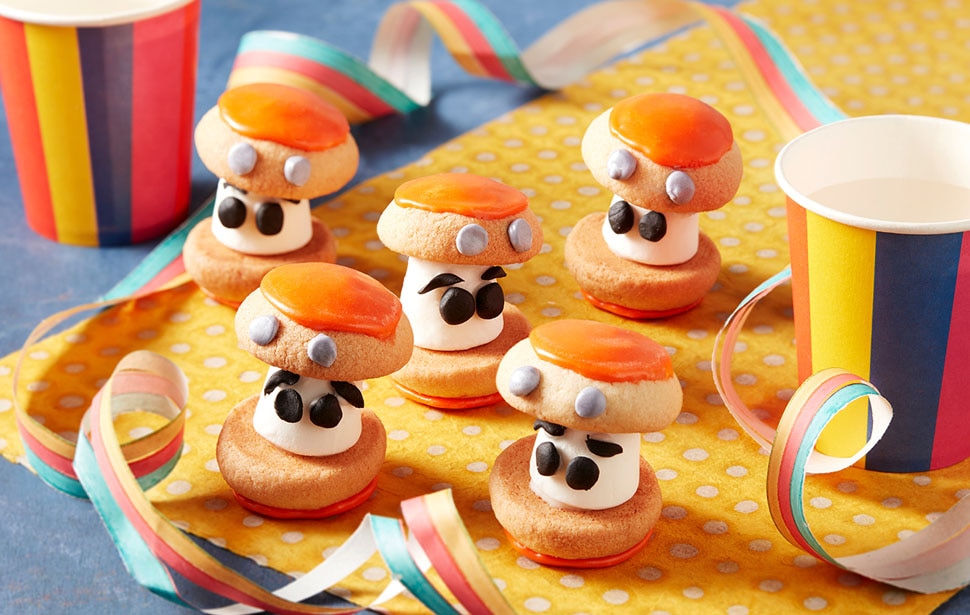 Make these mouthwatering minions with your little ones!
INGREDIENTS
100g butter
100g caster sugar
1 tsp vanilla bean paste or extract
1 medium egg, lightly beaten
200g plain flour
To decorate:
250g royal icing sugar
Gel or paste food colours in orange and black
75g seedless raspberry jam
25g black sugar paste
10 white marshmallows
mETHOD
Line a large baking sheet with baking parchment. Beat the butter and sugar together until well combined then briefly beat in the vanilla extract. Gradually add the egg then stir in the flour and bring together into a dough with your hands. Wrap in cling film and chill for 20 mins.
Heat oven to 180C/160C fan/gas 4. Divide the dough into 20 pieces that are each about 20g. Roll into balls, flatten slightly and arrange on the baking sheet leaving space for the biscuits to spread. Bake for 15-18 mins until light golden. Leave to cool on the baking sheet.
Mix the royal icing sugar with 45-50ml water. The icing needs to be stiff but spreadable. If it is too stiff add a little more water drop by drop. Dye 1/3rd a pale grey and the remaining two-thirds a bright orange. Put into piping bags with small round nozzles or use disposable piping bags and snip the ends off to make small holes.
Pipe filled-in circles of orange icing onto the domed top of 10 of the biscuits – these will be the top layer of your marshmallows. Underneath the orange circle pipe 2 small grey ovals. Using a small serrated knife, trim the rounded tops off the 10 remaining biscuits. These will be the base of your marshmallows. Pipe a circle of orange around the trimmed area. Leave to set for 4 hours.
Make the Grimbot eyes and eyebrows from the black sugar paste. Attach to the marshmallows with royal icing. Warm the jam a little to melt it then use it to stick the marshmallow between the biscuits.
To melt the Grimbot marshmallows, remove the top biscuit from the Grimbot and keep to one side. Put the marshmallow stuck on its biscuit base on a microwavable plate and microwave for 3-5 seconds until the marshmallow is soft. Put the top biscuit back onto the melted marshmallow to serve.