Go Jetters Star Medal Biscuits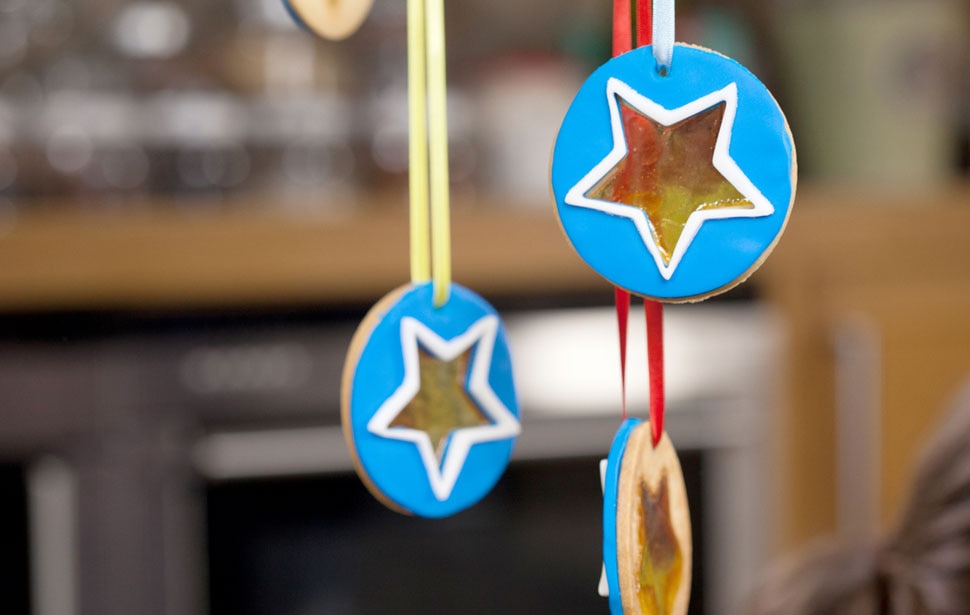 Make and bake these yummy Go Jetters Star Medal biscuits!
INGREDIENTS
For the biscuits:
red and yellow boiled sweets
125g slightly salted butter, softened
125g caster sugar
1 medium egg, lightly beaten
1 tsp vanilla extract
250g plain flour
For the decoration:
white and blue fondant
runny honey
coloured lengths of ribbon (3-5mm wide in Go Jetters colours)
METHOD (Makes 20)
Preheat the oven to 180°C (160°C fan), gas mark 4.
Line two flat baking trays with non-stick parchment.
Cream together the butter and sugar, then gradually beat in the egg and vanilla extract.
Sift and stir in the flour and mix to a fairly soft dough.
Turn onto a lightly floured surface and knead gently. Wrap the dough in cling film and chill for at least 30-60 minutes.
Put the sweets into freezer bags, keeping each colour in a separate bag.
Wrap in a tea towel and bash with a rolling pin until they break into small pieces. Set aside.
When ready, roll the dough out on a lightly floured surface to around the thickness of 0.5cm.
Cut into circles using an 8.5cm round cutter and transfer the biscuits to the lined baking sheets, using a spatula.
Using a star cutter around 6cm in size, stamp and cut out stars from the middle of each round.
Any leftover dough and trimmings can be used to create more biscuits or if you have lots of baking trays, you can create a bigger first batch.