Ubercorn Ice Cream Cone Cakes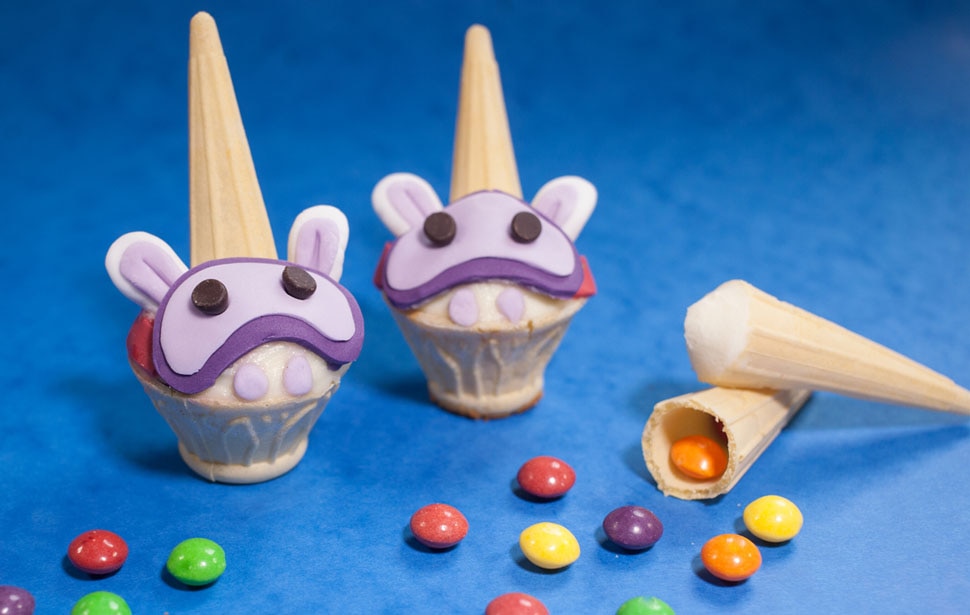 Be a Smartie, make this yummy Ubercorn Ice cream!
Recipe by Frances Quinn
INGREDIENTS
For the cakes:
12 ice cream cones
50g slightly salted butter, softened
50g caster sugar
1 medium egg, lightly beaten
1 tsp vanilla extract
50g self-raising flour
1 tbsp milk
For the sweetened mascarpone:
250g mascarpone
50g icing sugar
few drops of vanilla extract
1/2 tbsp milk
For the decoration:
packet of multicoloured sweets
dark chocolate chips
white, red, dark and pale purple fondant
mETHOD
Preheat the oven to 180°C (160°C fan), gas mark 4.
Place a folded tea towel on your work surface and lay an ice cream cone on top.
Use the tea towel to support the cone and, with a serrated knife, gently score around each cone and very carefully cut along the scored line to cut off the pointed cone shape, leaving a flattened top to bake your cakes in.
Set aside your pointed cone pieces to use later. Lightly grease a 12 hole mini muffin tin and place the flattened tops into the prepared tin.
To make your cake mixture cream the butter and sugar together in a bowl until light, pale and fluffy. Beat in the egg a little at a time and mix in the vanilla extract. Sift and fold in the flour before adding the milk to create a smooth dropping consistency mixture.
Transfer the mixture to a disposable piping bag and snip off 2cm from the end.
Pipe the mixture into the cones, making sure you only fill them 3/4 full, as the sponge will rise up in the oven – you will have a some mixture left over, which you can use to create extra Ubercorn cakes or a few cupcakes.