Meet Banks & Wag the brains behind the sounds of Go Jetters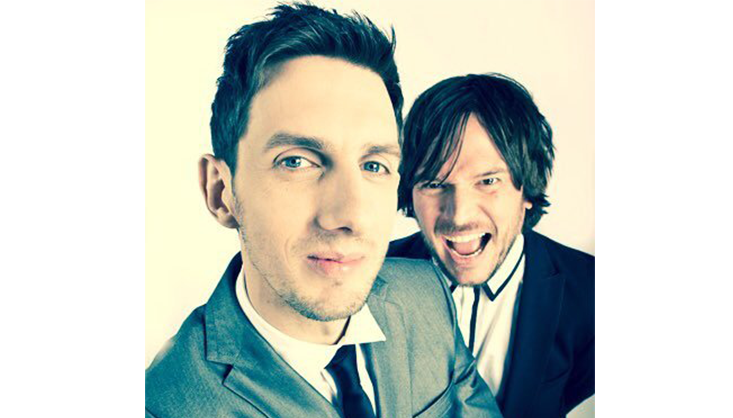 Banks & Wag are the award-winning composers behind the music for hit CBeebies series Go Jetters.  They create the catchy music you hear when you see plucky heroes, Xuli, Kyan, Lars and Foz travel the world with their teacher, mentor and friend, Ubercorn, a disco-grooving unicorn, while trying to stop Grandmaster Glitch glitching famous landmarks along the way.  The talented pair have also worked on ZingZillas, Something Special, Blue Peter, and the annual CBeebies Christmas shows.
Let's find out more about how they make Go Jetters sound so funky that you can't get the theme tune out of your head!
Go Jetters HQ: Congratulations on­­ the Go Jetters theme reaching #1 in April 2017 in the UK Children's iTunes Charts! How does it feel to have one of the most memorable and popular theme songs on kids TV?
Wag:  Thank you! We feel very proud and honoured to be working on such a great show. We were kids in the 80s, which was a golden era of action-packed cartoons and brilliant, catchy theme tunes. So for years we dreamed of writing for our own Battle of the Planets, He-Man or Thundercats and are still counting our blessings that we're finally doing it!
Banks:  We sometimes get tweets from parents who've found themselves humming Go Jetters during high-powered business meetings, for which we can only apologise.
Go Jetters HQ: How did you come up with the Go Jetters theme song?
B:  Well, the show's full of that retro iconography – glitter balls, star badges, a unicorn in a white jumpsuit – and the producers wanted a disco soundtrack to go with it. So we began by listening to Chic, Sister Sledge, Kool And The Gang: all the classic records of the era.
W:  We watched clips of Spiderman And His Amazing Friends, The A-Team, The Professionals, Roger Moore James Bond films. We also referenced modern tracks like Bruno Mars' "Uptown Funk" and Daft Punk's "Get Lucky". We wanted to just immerse ourselves in disco, old and new, to get ideas of how the theme tune, and the score, should sound.
B:  The theme tune itself took about a week. We thought "if we were five years old, what would get us so over-excited we'd want to jump off the settee?" just like we used to after Knight Rider.  So I went round the shops humming different melodies to myself until I found one that really stuck. The Go Jetters chorus is so simple really, but it took three different attempts!
W:  We then got in the studio and recorded all the live instruments: electric guitar, bass, percussion, and so on. Andy Kingslow [Rastamouse/Apple Tree House] loaned us his original 1970s Wurlitzer keyboard for Banks to add his Stevie Wonder funky chops on, and we got the legendary London Horns to play all the brass riffs.
B:  But the key ingredient was finding Sharleen Linton.  She's sung with everybody – Nile Rogers, Adele, Smokey Robinson, Jennifer Hudson, you name it – and her vocals give the whole show that disco diva edge.
Go Jetters HQ: Talk us through the writing process for the Go Jetters' score?
B:  We'll chat with the producers to pin down which aspects of the narrative they want our music to underline: usually the danger of the week, some local colour, some key emotional beats. Then they email us an early version of the animation to compose to. 
W:  Depending on the location, we may need the sound of a sea shanty, or a uniquely South American or Indian instrument. We even played one episode on a bunch of saucepans and a cheese grater. We combine all these with the disco elements for the big chases and the funky facts.
Then once everything's written and recorded, I mix the 70 or so different instruments that make up the score, and send it off for the dubbing mixer to combine with his sound effects. The music for every episode takes us about a week.
Go Jetters HQ: Do you have a favourite episode of Go Jetters that you have scored? If so, which is it and why?
B:  We both loved last year's Christmas Special, which has everything: drama, pathos, a disco version of "Sleigh Ride", Glitch falling into a volcano.
W:  There's also a great one coming up in series 2 which fans of a certain mid 80's jet fighter movie might appreciate…
Follow @BanksAndWag on Twitter
Watch this video to learn the words to the catchy Go Jetters theme tune!