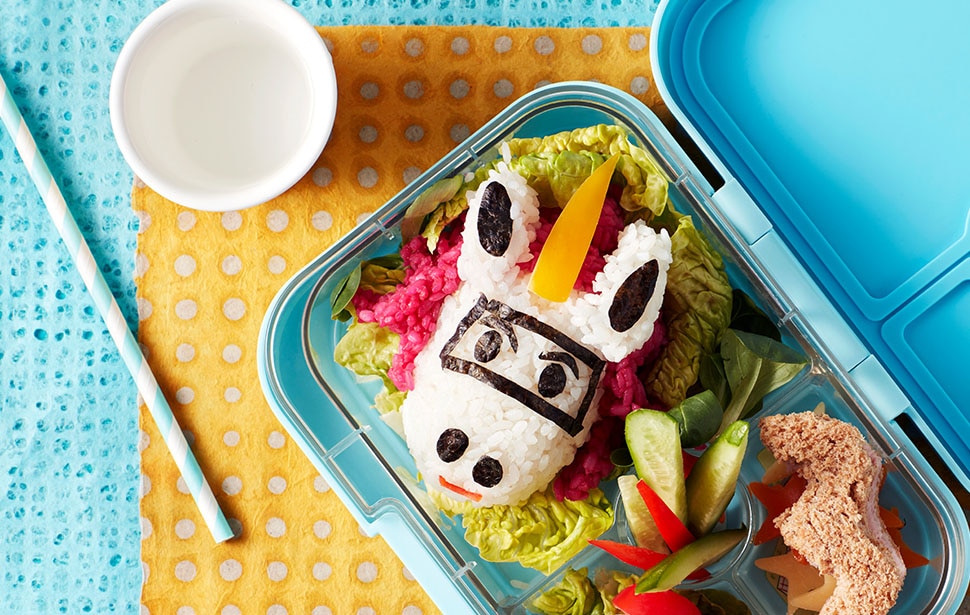 Make these yummy bento boxes with your little ones!
INGREDIENTS
150g sushi rice
25g cooked beetroot
2 tbsp natural yogurt
50g drained tuna from a tin
soy sauce, to taste
1 sheet of nori
1 mini red pepper
1 mini yellow pepper
1 mini cucumber
handful of lettuce leaves
1 slice wholemeal bread
1 slice ham, chicken, cheese or other sandwich filling
1 cheese slice
2 cherry tomatoes
2 mozzarella pearls
mETHOD
To make the Ubercorn onigiri, first cook the rice following pack instructions then leave to cool completely. Whiz the beetroot with 1 tbsp yogurt in a small food processor. Mix half of the rice with the beetroot puree to dye it purple.
Next make the onigiri filling by mixing the remaining 1 tbsp yogurt with the tuna and a splash of soy sauce to taste. Shape the tuna filling into a small ball. Mould most of the sticky white rice around the tuna filling in an oval shape to make Ubercorn's face. Shape the purple rice around the face to make Ubercorn's hair. Use the remaining white rice to mould ears. Cut pieces of Nori to make the face details and arrange them on the rice. Use a small piece of red pepper for the mouth and a slice of yellow pepper for the horn. Carefully lay Ubercorn on top of lettuce leaves in the bento box.
Cut the cucumber and what's left of the red and yellow peppers into crudites and add to the box
To make the Glitch moustache sandwich, cut the piece of wholemeal bread in half. Put the pieces of bread on top of one another and use scissors to cut out the moustache shape. Fill with favourite sandwich filling.
Use a small star cutter to cut stars out of the cheese and tuck them into the box.
For the mini grimbots, cut the tomatoes in half and sandwich with mozzarella pearls. Finally cut out little circles of nori to make the eyes.